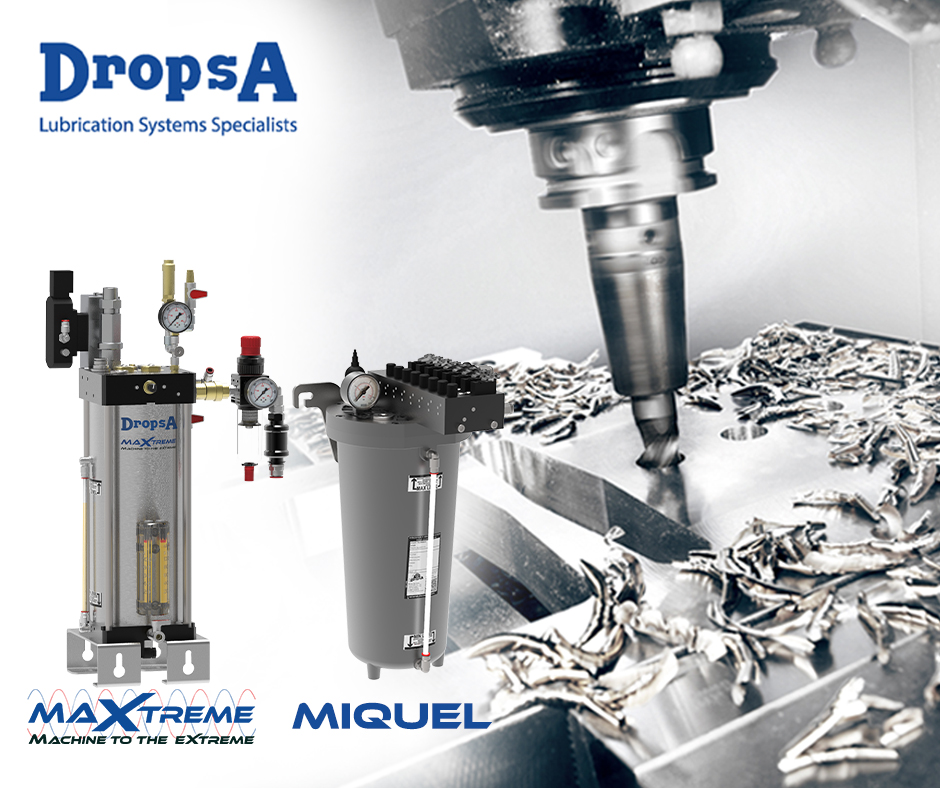 MQL and near dry machining lubrication system with pneumatic control
Key features:
– Constant delivey even if the pressure change in input and output
– Reservoir capacity: 1L – 3L
– Delivery: variable, 0- 2 cc/ min
– Air and Oil delivery regulation for each single element

AVAILABLE VERSIONS
– MiQuel BASE: A/O modular system without compensation valve without independent solenoid control N(1÷8)modules
–MiQueL BASE-i: A/O modular system with independent solenoid control without compensation valve N(1÷8) modules
–MiQueL BASE-i IP65: Air/Oil Modular Minimal System without compensation valve with independent control solenoid valve Degrees of protection IP65
– MiQueL PRO: A/O Flow compensating system without independent solenoid control N(1÷8) modules
– MiQueL PRO-i: A/O flow compensating system with independent solenoid control
–MiQueL BASE NO-EV: Air/Oil modular minimal system withoutcompensation valve withpneumatic valve for independent control
–MiQueL CART -i: Air/Oil modular minimal system without compensation valve and oil adjustment with solenoid valve for independent control
System for processing Minimum micro-aerosol quantity
Key features:
– Min. working diameter LP nozzle: (6 bar) 2 mm (7000 Nl/h) (247 cfh)
– Minimum working diameter HP nozzle: (20 bar) 0.8 mm(3500 Nl/h) (123 cfh)
– Reservoir capacity: 2 litres (0.50 gallons)
– Air supply hose: Ø12mm.(0.47 in)
– Usage tube: Ø12 ÷ 16 mm (0.47 ÷ 0.6 in.)
– Number of aerosol outlets: 1~3

MaXtreme (2 vortex) 
– Air flow operating range: 3500 ÷ 6500Nl/h (124 ÷ 230 cfh)
– Normal pressure vortex: 6 bar (87 PSI)
– High pressure vortex: 20 bar (290 PSI)
– Oil flow: up to 220 ml/h (0.008 cfh)
– Lubricant:  Recommended MaXtreme OIL – vegetable based aerosol oil available in 3 container sizes) 
MaXtreme is the minimum quantity lubrication (MQL) system designed for the dry lubrication both inside and outside the tools, with a completely new approach to the single or double generator aerosol generation technology patented by DropsA.

MaXtreme is the ready-for-use solution for the most demanding and high performance near-dry processing that requires minimum external or internal lubrication or lubrication via utensil.

High pressure utensils will no longer be needed straight away and neither will water collection trays. Consequently, there will be no further need to dispose of the lubricant-coolant liquid. The reduction of costs is therefore immediate and clear from the first work cycle.

Thanks to a completely new approach to the aerosol generation technology, MaXtreme is revolutionising the installations and the MQL machining of new and existing machines.

ADVANTAGES:
– Reduces your cycle time
– Longer utensil life
– The mixture of aerosol prevents the overheating of the utensil.
– Better finishing of the pieces: thanks to a more complete and adequate lubrication through the utensil.
– Optimisation of investments: there is no need to have high or low pressure trays and no filtering systems are required.

APPLICATIONS
Near dry high performance MQL machining applications.
MaXtreme – MQL lubrication system – is easy to install, even on machines that are already in operation. It requires a maximum of one day of machine stoppage.